Attention animal lovers! Don't miss Crayola's award-winning toy turned life-sized attraction. Color, wash and play with your FREE Scribble Scrubbie* — a washable, fuzzy pet perfect for hours of creativity!
*Every ticketed guest will receive a voucher to exchange for a Scribble Scrubbie, which you may keep.
Imagination and creativity are king when it comes to this "cut, color, and paste" activity area! Craft themed projects like a rock star, jungle explorer or superhero gear. Activity themes change regularly to keep your creative juices flowing all year long.
Enjoy a live show while you eat! Watch an entertaining, live show and learn the science and magic of color behind your favorite Crayola products daily at 1 p.m.
Watch as Crayola's crayon character, Tip, mirrors your every kick, twirl and jump! It's almost as if you have magically become the colorful character in real life!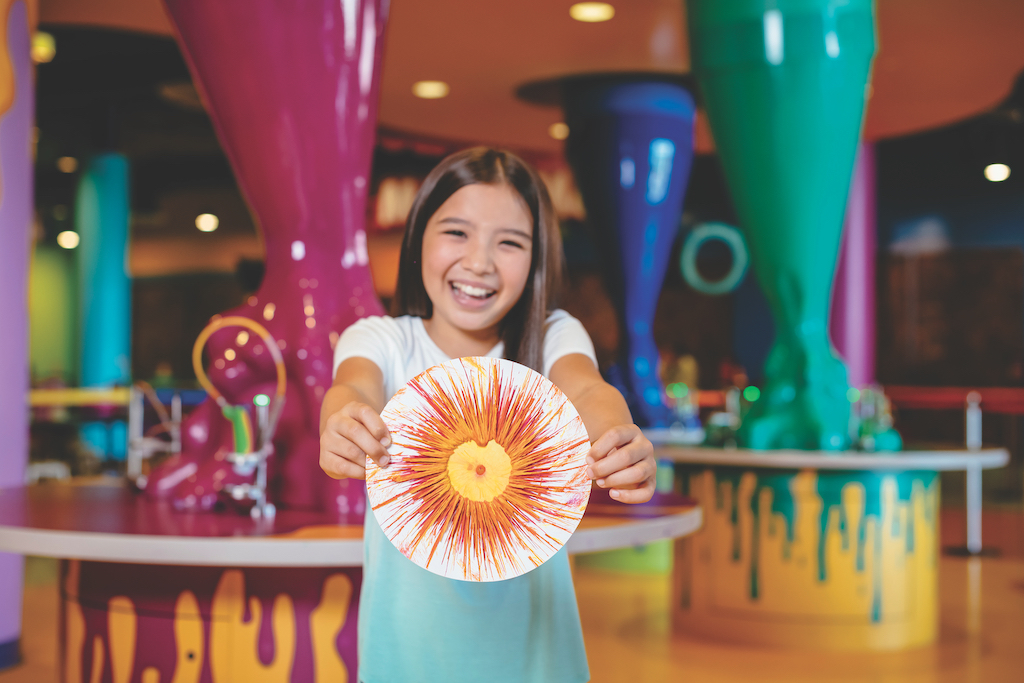 Create swirly, whirly art at this unique activity. Load your favorite crayon color into the machine and watch it drip crayon wax onto your paper as it spins to create spiral art like no other! 
No Crayola day would be complete without a painting project! In this painting area, you make the mess and we will clean it up! Don't forget to run your project through our larger-than-life drying oven, ensuring your masterpiece is ready to take home and display! 
Here, kiddos are encouraged to draw on the walls! Draw with chalk or color with dry-erase markers in the cutest 'neighborhood' at Crayola Experience.
Outrageous Orange, Radical Red, Wild Blue Yonder…what's your favorite Crayola color name? In this attraction, you can name and wrap your very own Crayola crayon!
Discover a whole new world of interactive fun with Crayola's new app. Try Create and Play for free!
Enjoy a variety of unique, kid-safe games. Your little ones will have a blast caring for creatures, playing arcade-style games and unleashing their creativity.
Say Macaroni & Cheese! Just like a real photo booth, becoming a coloring page is as easy as pushing a button and posing. Star in your very own coloring page along with some of Crayola's coolest characters!
Enjoy a 2-story playground—Crayola style! Wiggle up a melty wax tower, bound across a paint splat bridge and then take a ride sliding out of the crayon box! Hop back in to zig and zag up the giant crayon all while dodging and squeezing through fun obstacles. This is sure to be a hit with the energetic kids in your life!
Shop the most colorful store ever! Explore the world's largest selection of Crayola products and unique souvenirs—from plush to apparel.
Melt your favorite crayon color into a ring, critter or even a special character! Just add your favorite crayon color into the machine and watch your crayon melt into a Crayola Experience keepsake!
It's raining, it's pouring—this activity is never boring! Experience a rainbow like never before. Watch as your image catches digital melted wax in this colorful marvel that is controlled by your movement!
There are so many ways to play at this interactive floor! Burn off energy while you stomp on and crack virtual ice, dodge sharks in the ocean, pop popcorn with your feet and reveal hidden images—all with your tootsies!  
Become a designer in this cool experience! Color, scan and digitally accessorize your car or fashion design to your unique preference—then show it off in the spotlight! Have your dress walk the runway or your car race the course on a huge projected screen for family and friends to see.
Experience Crayola's innovation unboxed! Legend has it Crayola's products grow in a magical imagination cave filled with glimmering "creativity" crystals. And now, we're finally sharing the truth.
Experience Outside the Box to see the real source of your favorite products—and try some of them out yourself!
This activity kicks selfies up several notches by letting you make and color a digital mask.  Choose between becoming a robot unicorn, a rock star parrot or even a zany pirate bunny. With thousands of possible combinations, the sky's the limit.
But that's not all! Your zany selfie projects on a big screen where you can interact with and animate it! You can watch your zany self projected into an underwater seascape or royal room only Crayola could create!
Creating, coloring and painting can burn a lot of calories! Rest up and recharge at Café Crayola and Snack Shack where you can enjoy Crayola inspired foods. The Snack Shack and Café Crayola feature fresh pizza, hot dogs, chicken nuggets, fries, Pepsi soft drinks, nachos, ICEEs, Dippin' Dots, popcorn and more.
Snack Shack and Café Crayola are located inside our attraction. Café Crayola hours are subject to change. Call 952-883-8800 on the day of your visit for operating hours.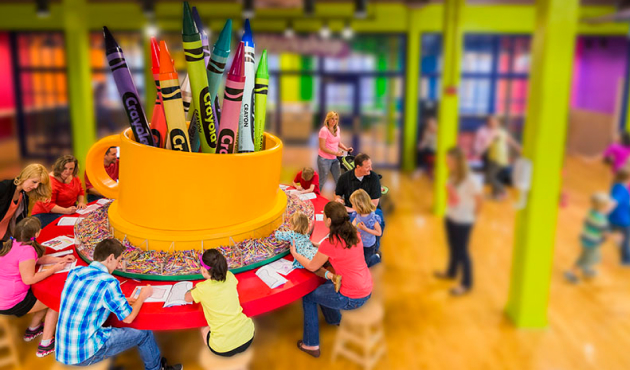 Visit this popular classic for young and the young at heart! Enjoy our giant caddy that holds thousands of crayons. It's the ultimate coloring experience and is just a hop, skip and a jump away at Mall of America!
Crayola crayons are being made every day at Mall of America—in our live show!  Join Scarlet and Turk (Turquoise), our animated crayon friends, as they show you how crayons are made along with our resident Crayonologist in a lively theatre show. Find out why Crayola crayons are a cut above the rest and learn little-known facts about the world's most iconic colorful tools.
Crayon Factory Show is currently closed for maintenance. Visit the Cafe Stage for another fun, live show!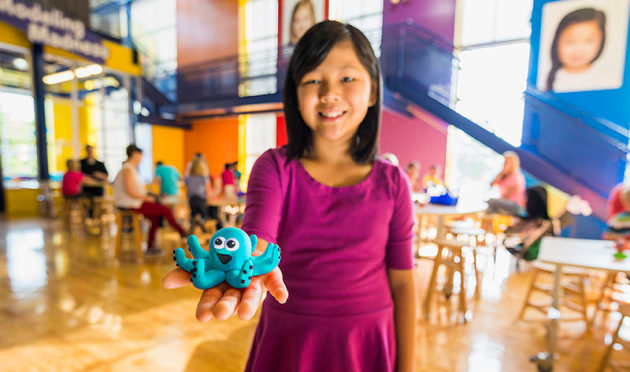 Sculpt imaginative creations using Crayola's Model Magic compound! Discover how Model Magic is the ultimate in dough. Not only can you mold it without any messy crumbs but you can color it with Crayola markers to make your own unique color.  Projects change monthly, so the fun never ends!
Watch as your personalized paper creation turns, bops and rocks to the music. Your creation can dance to rock, pop, country and more—it's a new show every time!
This space is just right for your tiny tot! Crayola's youngest fans can learn and play in colorful ways! Mix and match multi-colored pegs that glow at a giant bright light board and explore a climber made for the tiniest explorers. Your little ones will have a ball! 
Make a crayon-rubbing remix! It's a creativity mash-up with endless images and textures. You can make out-of-this-world art with crayon characters, mystical creatures, yummy snacks, and more—and then add them to fun scenes!