Bigger Than a Football Field!
Plan on spending 3-4 hours in our facility. It's bigger than a football field! Below are tips to help you plan your visit to Crayola Experience Mall of America.
Looking for suggestions on where to eat? We've got you covered! Curious about our hours? Look no further. We can't wait to see you!
What can I see and do there?
Crayola Experience is packed with 26 creative activities and attractions where color, chemistry and technology magically combine to create a colorful adventure for your child. Enjoy a live show on how Crayola crayons are made. Explore Melt and Mold, where you can create everything with melted wax. Or create your very own Crayola crayon at Wrap It Up! Visit our Things To Do page to learn more about each area.
What are your hours of operation?
Crayola Experience hours vary depending on the time of year. Visit our hours and directions page for current operating hours. We recommend allowing at least 3-4 hours for your visit to ensure you can try each and every attraction!
The best deals on general admission tickets and annual passes are available online! Check the ticket information page for current prices.
Can I purchase tickets at the attraction?
Yes, you can purchase tickets at a cashier or kiosk on site. However, purchasing tickets online before your visit saves money! General admission tickets are valid for one year from date of purchase. 
What forms of payment do you accept?
We accept major credit cards, debit cards and most payment apps. We accept cash, but we do not accept personal checks. We will accept organizational checks for group reservations.
Do I need reservations or timed tickets?
No. Your Crayola Experience tickets are valid for one year from the purchase date, and you can use them at any time. When you are ready to visit, just bring your tickets to the access area of the attraction.
If you previously purchased timed-entry general admission tickets, you can use them at the indicated time. However, if your plans change, you can use them at any time before they expire without having to reschedule. Timed entries are no longer available. 
How long are general admission tickets good for?
Your Crayola Experience general admission tickets are valid for one year from the purchase date. You can use them at any time. When you are ready to visit, just bring your tickets to the access area of the attraction.
I lost/forgot my annual pass. Can I still gain entry today?
All annual passes must be presented upon arrival. If you do not have your annual pass, there is a $5 replacement fee per card. If you have not yet received your permanent annual pass, but have a temporary pass, please present the temporary pass at the admissions desk and you will be issued your permanent pass.
Do you offer group rates?
How long should I plan on staying there?
Bigger than a football field, most families spend 3-4 hours exploring our attractions. While our Color Crew staff is always available, all activities are self-guided—so you get to go at your own pace and stay as long as you would like! Snack Shack and Café Crayola are located inside Crayola Experience, so you don't need to leave for a bite to eat or a refreshment.  
There is plenty of free parking at the Mall of America where we are located. The nearest parking is available at level P4 (marked "Florida") on the south side of the East parking ramp. An enclosed skyway bridge runs from Level P4 in the East parking structure directly to our entrance and Mall of America.
Yes! Once you purchase your admission, it is valid until closing time that day. Be sure to get a wristband before exiting if you would like to re-enter that same day.
Is there any place to eat lunch?
You can purchase lunch and snacks at the Snack Shack or Café Crayola, which are located inside Crayola Experience. Hours of operation for food + beverage location within Crayola Experience are subject to change; please contact Mall of America Guest Services at 952.883.8800 for the latest hours of operation. There are also a number of restaurants in the Mall of America. Attraction exit and re-entry are permitted with a wristband. No outside food and/or beverages are permitted inside the Crayola Experience attraction. Please note Café Crayola is temporarily closed.
How should the kids dress?
Crayola Experience is a fun-filled play day for your kids. So, dress for mess, not Sunday best. Most children wear play clothes when visiting the Crayola Experience.
Is there a Crayola retail store?
Yes. We have The Crayola Store where you can shop the largest selection of Crayola products in the world with one-of-a-kind Crayola souvenirs. There are two entrances to the store, one from inside the Mall of America and one from the Crayola Experience attraction.
The Crayola Store is open to the public; admission to Crayola Experience is not required. See store hours and more HERE!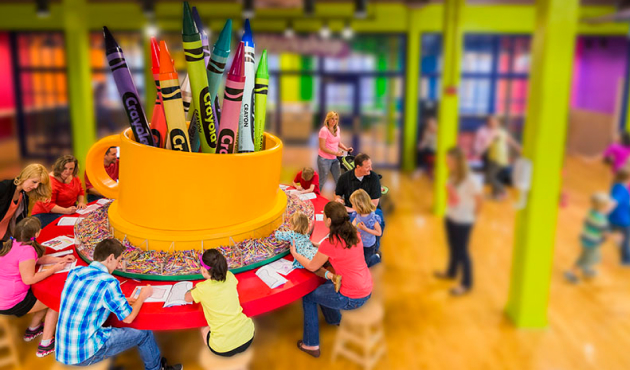 Visit this popular classic for young and old- enjoy our giant caddy that holds thousands of crayons. It's the ultimate coloring experience and its just a hop, skip and a jump away at Mall of America!
Enjoy an 2-story playground, Crayola-style! Wiggle up a melty wax tower, bound across a paint splat bridge and then take a ride sliding out of the crayon box! Hop back in to zig and zag up the giant crayon all while dodging and squeeeeezing through fun obstacles. . This is sure be sure to be a hit with the energetic kids in your life!
Say Macaroni & Cheese! Just like a real photo booth, becoming a coloring page is as easy as pushing a button and posing. Star in your very own coloring page along with some of Crayola's coolest characters!